Gastronomy
A TASTE FOR THE 5 SENSES
The location of the hotel, a beautiful spot on the Costa del Sol, largely determines its gastronomic offer, rich in Mediterranean, Andalusian and international cuisine. The wide pantry of excellent raw materials that the restaurants of the Axarquía have provide us with everything from the fish from the nearby Puerto de la Caleta, to the most exquisite meats, passing through the traditional orchard and the subtropical ones of the Eastern Costa del Sol.

In the "Los Naranjos", "Viñuela" or "El Jardín" rooms, both Hotel guests and visitors will be able to enjoy good food with our Seasonal Menu. In the «Cafeteria», the «Al Andalus» or «El Jardín» lounge will delight with our high-end Snack Menu, ideal for lunch or for lighter dinners. In summer we open our Alhama pool bar, for a carefree day and where a good paella accompanied by Gazpacho Andaluz or Ajoblanco becomes the ideal complement to a day at the pool. In order to taste the magnificent gastronomy of the hotel we find the wonderful terrace with panoramic views and the lounges.

Our Hotel client will receive an exclusive service in their diet when served à la carte. Menu in which you will taste dishes with the best ingredients and presentations of our Axarquica, Andalusian, Mediterranean and international gastronomy.
Read more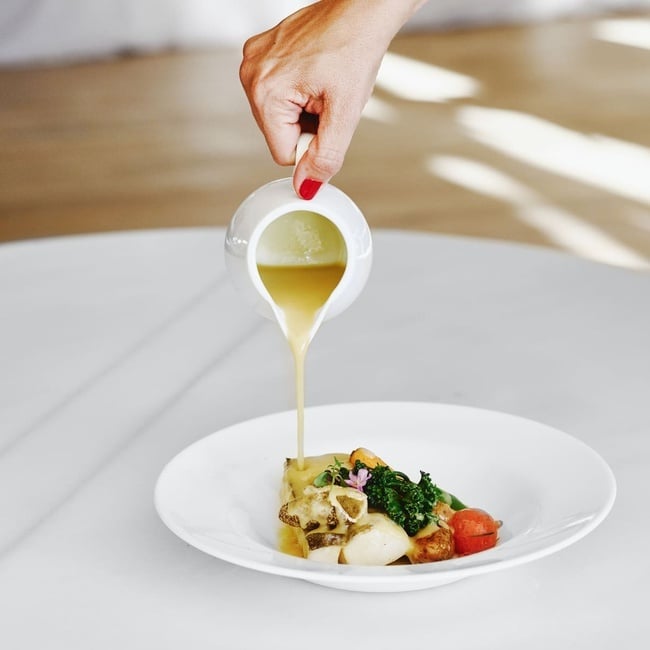 Our flavor
Raw materials and quality

The cuisine of Axarquía, Málaga, and Andalucía is the common core of Malaga's typical gastronomy that we want to offer you, always from a modern perspective and full of Mediterranean and international touches.

The defining characteristics of B bou gastronomy are simple: quality at all stages of the process, maximum respect for raw materials, permanent coordination with our suppliers to obtain the best local and seasonal product in each area, and the fusion of flavors, with tradition as a guide but open to experimentation and curiosity.
See more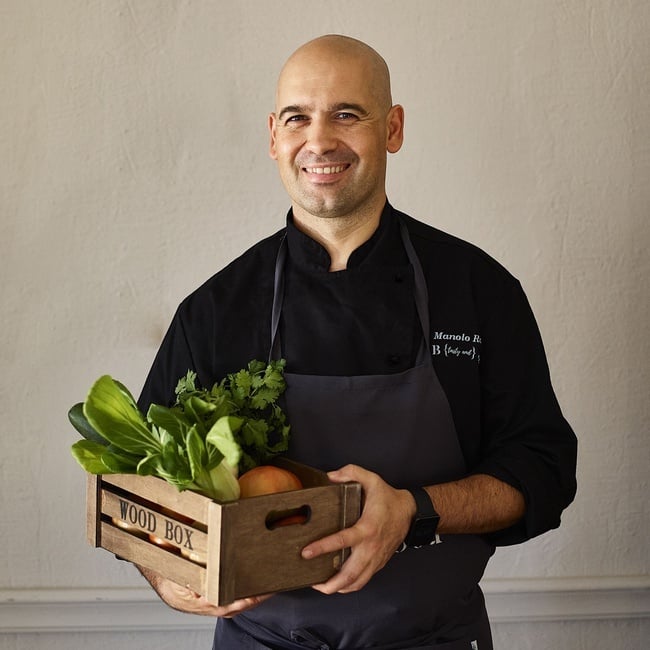 Signature Cuisine
Our chef, Manolo Ramos

The maximum quality of our dishes is the objective that we have set for more than 14 years and that our Executive Chef, Manolo Ramos, has been in charge of transferring to all our hotels or through the typical gastronomy of Malaga and Andalusia.

Accompanied by our team of great professionals, we offer you some common hallmarks in the gastronomy of Axarquía, Malaga, and Andalusia without detracting from the specialties of each area, so that each kitchen will always offer you the highest quality, but with an unforgettable unique touch.
LEARN MORE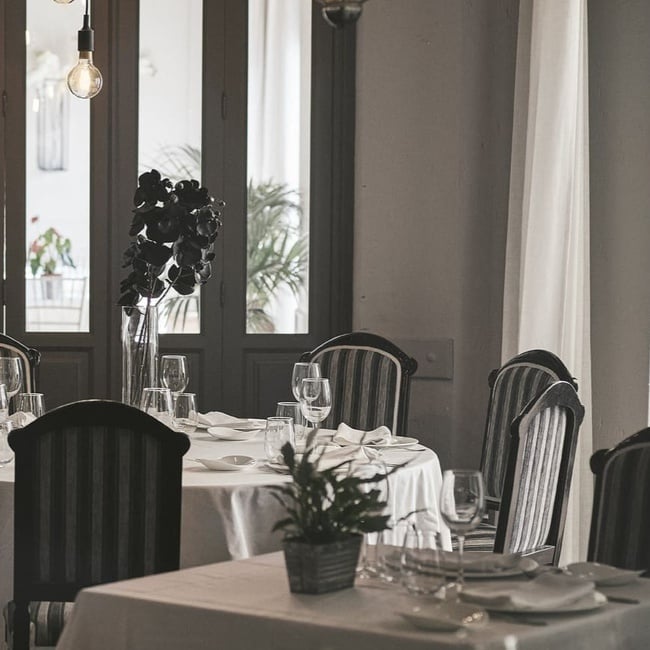 The environment
Discover the magic

An excellent cuisine would not be such if it were not accompanied by impeccable service and the tasting of wonderful wines from our area, offering you a menu of the highest gastronomic level in some warm and cozy lounges or in terraces with wonderful views and fabulous gardens.

Everything comes together so that enjoying the gastronomy of Malaga, Costa del Sol, at B bou Hotel La Viñuela & Spa is a unique experience that opens your senses to a world of flavor and sensations.

Feel the flavor of Malaga and Andalusian gastronomy and accompany it with wonderful views in our restaurant surrounded by nature with panoramic view terraces. Enjoy a magical cuisine, where tradition and the avant-garde coexist in a perfect balance in all our menus: breakfast, restaurant menu awarded several times, snack menu and room service, with special attention to allergies.

Our Hotel client will receive an exclusive service in the diet they prefer and served à la carte. Menu in which you will taste dishes with the best ingredients and presentations of our Axarquian, Andalusian, Mediterranean, and international gastronomy.
DISCOVER IT
Our schedules:

- Breakfasts: 8:00 a.m. to 11:00 a.m.
- Cafeteria: 8:00 a.m. to 12:00 a.m.
- Snack menu: 11:00 a.m. to 00:00 a.m. (last order 10:30 p.m.)
- Restaurant menu: 13:30 to 00:00 h. (last command 10:30 p.m.)
- Room Service: 8:00 a.m. to 10:30 p.m. (last order 10:00 p.m.)

Schedule subject to modifications according to COVID regulations
Check our offers before anyone else